[row] [span12] [frame align="left"]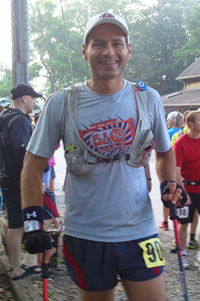 [/frame]
Podiatrists specialize in diagnosing and treating disorders of the foot, ankle, and lower leg.
Dr. Sedicum earned his bachelor's degree in Risk Management from the Wharton School of the University of Pennsylvania, did his post-baccalaureate studies in medical science at MCP/Hahnemann Medical School, earned his degree of Podiatric Medicine at Temple University, and completed his Ph.D. in health care management at La Salle University. He trained as a Podiatric Surgeon at Temple University Hospital. He is board certified in Podiatric Medicine. Dr. Sedicum also sub-specializes in clinical nutrition and diabetes care. He has been in private practice since 2002. Dr. Sedicum is a member of the American Wound Care Association and the American College of Sports Medicine.
An avid runner, Dr. Sedicum has completed multiple marathons and ultra-marathons. He works individually with runners to prevent and overcome injuries, yielding optimal training results.
Dr. Sedicum is continually involved in community service, with an emphasis on elder care and food projects. He is an installed Minister of Holy Communion, delivering the Eucharist to the hospitalized sick weekly. He is a licensed private pilot, who likes to fly up and down the coast in search of fine meals and ingredients. Dr. Sedicum lives happily, and healthily, with his wife and 3 daughters.
Dr. Sedicum says:
"Your feet endure every step of your life, and because of that, they deserve your attention, and that attention starts with your every health care choice."
[custom_list]