Diabetic Wound Care Services Quakertown, PA
A diabetic foot ulcer is an open sore or wound that occurs in approximately 15 percent of patients with diabetes and is commonly located on the bottom of the foot. Of those who develop a foot ulcer, 6 percent will be hospitalized due to infection or other ulcer-related complication.

Diabetes is the leading cause of non-traumatic lower extremity amputations in the United States, and approximately 14-24 percent of patients with diabetes who develop a foot ulcer will require an amputation. Foot ulceration precedes 85 percent of diabetes-related amputations. Research has shown, however, that development of a foot ulcer is preventable.

If you feel these symptoms call Dr. Sedicum for an appointment:

Because many people who develop foot ulcers have lost the ability to feel pain, pain is not a common symptom. Many times, the first thing you may notice is some drainage on your socks. Redness and swelling may also be associated with the ulceration and, if it has progressed significantly, odor may be present.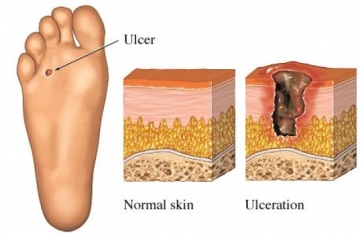 Business Hours:
Monday: 9am – 5:30pm
Tuesday: 9am – 5:30pm
Wednesday: 9am – 5:30pm
Thursday: 9am – 12pm
Friday: Closed (Admin Only)
Sat – Sun: Closed