Running and jogging are excellent forms of exercise, but they subject the body to considerable stress. Each time a runner's foot hits the ground, for example, it generates forces equivalent to at least three times the body's weight. It is important to do everything possible to protect the feet, ankles, knees, hips, and lower back vertebrae.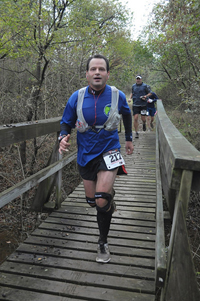 With proper technique and the right equipment, running can actually help relieve pain in the joints. Good running sneakers are essential. The best running shoes have excellent cushioning and provide stability and support to the arch of the foot. These shoes should be replaced every 3 to 6 months.
Running and jogging can lead to serious injuries that affect the legs, ankles, and feet, including:
Heel pain
Achilles tendonitis
Sesamoiditis
Tarsal tunnel syndrome
Shin-splints
Anterior Compartment Syndrome (ACS)
Lateral Compartment Syndrome (LCS)
Interested in Running? Check out Dr. Austin Sedicum's Run Schedule and keep up with our Facebook Page!
Fill out the form below if you are interested in Dr. Sedicum's services and one of our team members will get back to you as soon as possible!