Morton's Neuroma Nerve Services Quakertown, PA
Morton's neuroma is an enlarged nerve that usually occurs in the third interspace, which is between the third and fourth toes. Problems often develop in the third interspace because part of the lateral plantar nerve combines with part of the medial plantar nerve here. When the two nerves combine, they are typically larger in diameter than those going to the other toes. Also, the nerve lies in subcutaneous tissue, just above the fat pad of the foot, close to an artery and vein.

Signs and Symptoms of Morton's Neuroma

The most common symptom of Morton's neuroma is localized pain in the interspace between the third and fourth toes. It can be sharp or dull, and is worsened by wearing shoes and by walking. Pain usually is less severe when the foot is not bearing weight.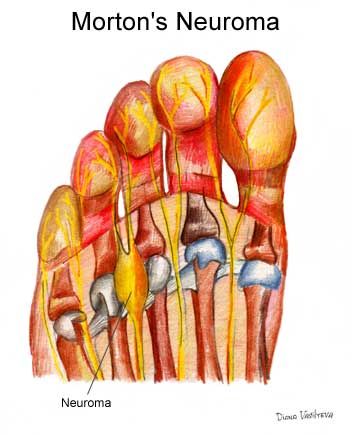 Business Hours:
Monday: 9am – 5:30pm
Tuesday: 9am – 5:30pm
Wednesday: 9am – 5:30pm
Thursday: 9am – 12pm
Friday: Closed (Admin Only)
Sat – Sun: Closed